Presentation of the Robert Gerhard special edition – biography of the composer: book and 7 CDs.
The Robert Gerhard Centre for the promotion and diffusion of the Catalan Musical Patrimony (C_RG), with the support of the Department of Culture of the Generalitat, presents, as the culmination of the Gerhard 2011 Programme, a composite special edition of a book with 7 CDs dedicated to the composer who gave his name to the centre. The CDs are a re-issue of seven recordings which include all of the principal symphonic and choral works by Gerhard.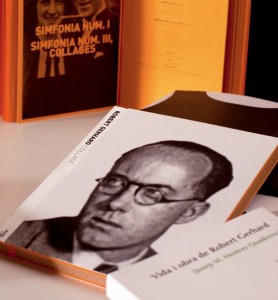 This publication complements the volume Vida i obra de Robert Gerhard by Josep Maria Mestres Quadreny. The two volumes are presented together with a reproduction of one of the stage designs by Joan Miró for the ballet Ariel by the composer from Valls.
The presentation occurs three years after the foundation of the Centre Robert Gerhard, providing a platform to create and develop diverse projects: editorial, discographic and performance.