International Conference — Perspectives on the Reception of the work of Roberto Gerhard
Posted on January 10, 2013 | in Research | by admin
International Conference
Perspectives on the Reception of the work of Roberto Gerhard  
Universidad de Alcalá, Salón de Actos, Rectorado de la Universidad de Alcalá,
6th and 7th June 2013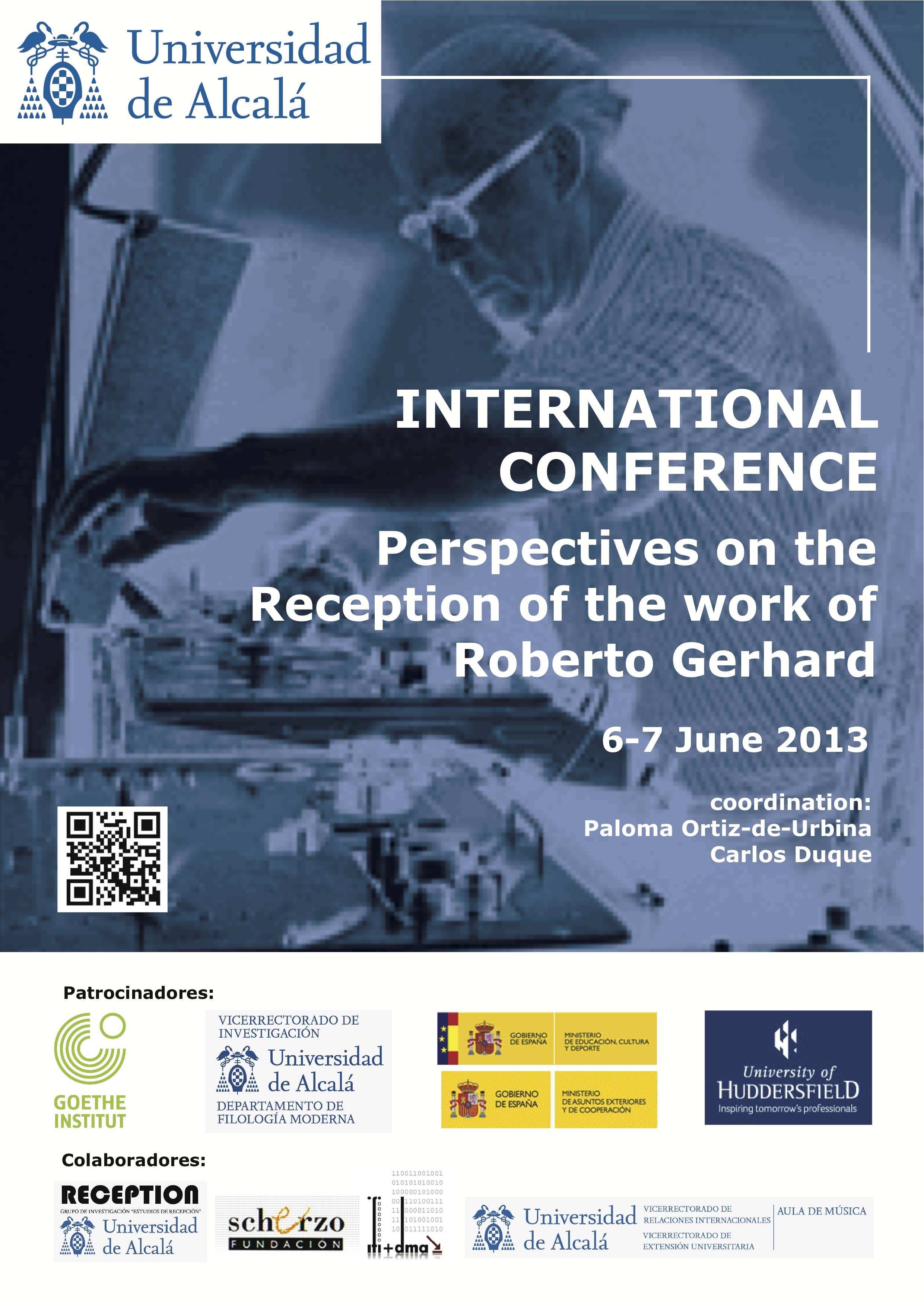 Conference Schedule
Thursday, 6th June

09:30
Registration at Patio de Filósofos, Rectorado UAH
10:15
Welcome reception by UAH President Fernando Galván
10:30
Paloma Ortiz-de-Urbina (Universidad de Alcala) & Michael Russ (University of Huddersfield). Roberto Gerhard and Post-Tonal Theory: A Last Letter to Schoenberg
11:00
Diego Alonso: (Universidad de Rioja) Back to tonality?! Gerhard's compositional strategies during the first stage of his studies with Schoenberg
11:30
Coffee
12:00
Julian White (Independent researcher, Wellington, UK): Gerhard's 'Music for Pandora'
12:30
Mark E. Perry (North Georgia University): Roberto Gerhard in United States
13:00
Carlos Duque (University of Huddersfield): The influence of critics in Gerhard´s music
13:30
Lunch (Restaurante Rectorado)
15:00
Visit to Universidad de Alcalá Rectorado and Paraninfo
16:30
Coffee
17:00

Leticia Sánchez (Universidad Autónoma de Madrid) El compositor Robert Gerhard. Música y literatura. Invited guest: Javier Alfaya

17:30
Carlos Duque, Presentation of documentary: Roberto Gerhard, an explorer in the Avangarde
18:00
Moving to Aula de Música
19:00
Concert: Elena Gragera and Antón Cardó. Auditorio del Aula de Música.
Friday, 7th June

10:00
Jesús Ferrer: (Universidad de Cantabria) "London calling": una ayuda en el exilio
10:30
Sergio Restrepo: (Universidad Complutense) Aproximación analítica a la Symphony 3 ('Collages'), de Roberto Gerhard
11:00
José de Eusebio (Conductor, Alicante): Gerhard´s Violin Concerto
11:30
Coffee
12:00
Belén Pérez (Universidad Complutense): Roberto Gerhard en la bibliografía musical de la España franquista (1949-1973)
12:30
Germán Gan-Quesada (Universitat Autònoma, Barcelona):Robert Gerhard through the looking-glass of Barcelona press (1945-1975)
13:00

Gregorio G. Karman: (University of Huddersfield)  Gerhard, Calígula, and the ONCE Group

13:30
Lunch
15:00
Trevor Walshaw (University of Huddersfield): Don Roberto = Don Quixote
15:30
Ana Vega: (Universidad Autónoma, Madrid) El sentimiento español en la obra de Roberto Gerhard
16:00
Coffee
16:30
Free Panel with invited guests and general discussion:
– José Luis García del Busto– Begoña Lolo– Tomás Marco – José Luis Temes